KOMPAN to Provide Playground Solutions
to Nationwide Purchasing Cooperative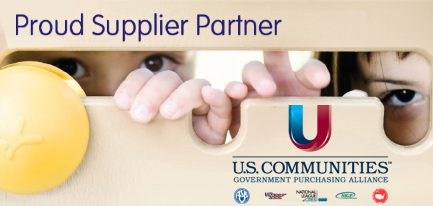 Tacoma, WA – September 17, 2010 – KOMPAN, Inc. announced it has been awarded a 5-year contract to supply it's innovative playground equipment, recreational and fitness systems, and services to the participants of U.S. Communities Government Purchasing Alliance. Effective September 17th, 2010, over 90,000 potential public agencies will have access to KOMPAN's award-winning playground solutions at competitively bid pricing. Charlotte-Mecklenburg County served as the lead agency and awarded KOMPAN the contract after carefully evaluating proposals from several other manufacturers.
Tom Grover, President of KOMPAN, Inc, stated, "At KOMPAN we build more than playgrounds. We build sustainable children and communities by designing exceptional play spaces for people of all ages. Participants of U.S. Communities can now have access to the most innovative products in the industry." Grover added, "U.S. Communities allows their participants the opportunity to make the most of every new playground with the added confidence of knowing that they are getting the best price."
U.S. Communities is the leading national public purchasing cooperative serving over 43,000 cities, towns, school districts, non-profits and other public agencies. The service U.S. Communities provides makes it possible for participating agencies to quickly attain the products, services and solutions they need through a competitively bid contract.
About U.S. CommunitiesTM Government Purchasing Alliance
U.S. Communities is the leading national government purchasing cooperative that assists local and state government agencies, school districts (K-12), higher education, and nonprofits in reducing the cost of purchased goods through pooling the purchasing power of public agencies nationwide. This is accomplished through competitively solicited contracts for quality products, services and solutions through lead public agencies. Contracts result in the annual procurement of more than $1.4 billion in products and services. Each month more than 400 new public agencies register to participate. This continuing rapid growth of public agency participation is fueled by the program's proven track record of providing public agencies unparalleled value and the best government pricing available.